Maxwell House Mild Blend Instant Coffee Powder Tin 1x750g
£21.25 £31.95
Unavailable
🚚 Next Dispatch:
3pm Every Working Day for Same Day Dispatch
Free Delivery On Orders Over £60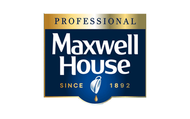 Maxwell House Mild Blend Coffee boasts the highest quality coffee beans roasted by Maxwell House for a full flavour. Creating an instant coffee powder perfect for that first cup of coffee of the day.
Tin Size: 1 x 750g
Payment & Security
Payment methods
Your payment information is processed securely. We do not store credit card details nor have access to your credit card information.
Maxwell House Mild Blend Instant Coffee Powder Tin 1x750g
Pack Size: Single Unit
Drink Type: Black Coffee
Brand: Maxwell House
Case Size: 1 x 750g
Lovely coffee
I have had Maxwell House mild blend for so long now, must be 40 years or more. I love the taste, obviously suits my tastebuds. Tried other coffees and slowly went off them and always reverted back to Maxwell House.
Couldn't believe it when they stopped selling it in shops.
Thankfully I found coffee supplies direct. Prompt delivery great service.
The best place to buy Maxwell House powder coffee!
I've bought from Coffee Supplies Direct many times before and it the best place to buy Maxwell House powder coffee, which happens to be our favourite coffee.
Prices are nice and delivery is always quick. Thanks again and I'll be back for more!
Excellent product and glad its still available from Coffee Supplies, who always deliver and do a great job!
Not strong but tastes good
Have drunk this coffee for many years. It is not available locally and it is great to get it from you.
Best coffee around and at a great view