Tiziano Bonini Espresso Corposo 6x16 Lavazza A Modo Mio Compatible Coffee Pods
£19.99 £29.99
Unavailable
96 servings per case that's £0.20 per serving
🚚 Next Dispatch:
3pm Every Working Day for Same Day Dispatch
Free Delivery On Orders Over £60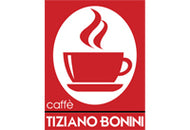 It's a bold coffee with a strong and persistent taste. Its definite aroma mixed with a "delicious" cream and an intense coffee flavour.
Compatible with LAVAZZA a MODO MIO ® coffee machines.

LAVAZZA® is a third party brand without any connection with Tiziano Bonini.
Payment & Security
Payment methods
Your payment information is processed securely. We do not store credit card details nor have access to your credit card information.
Tiziano Bonini Espresso Corposo 6x16 Lavazza A Modo Mio Compatible Coffee Pods
Intensity: 8
Brand: Tiziano Bonini
Beverage: Espresso
Usage: Lavazza A Modo Mio
Case Size: 6 x 16
Ingredients
Roast & Ground Coffee